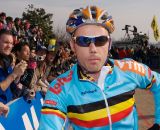 Thanks to our Belgian correspondent and contributor,
Christine Vardaros
, we've got
an exclusive chance to talk with superstar cyclocross racer Sven Nys
prior to the Olympics. And we're the only interview he's accepting prior to the Olymipcs. So, as a magazine that's for and by the 'cross community, this is an opportunity for the community to drive that conversation.
What would you like to ask Mr. World Cup? Post your top 3 questions below by end of day, 7/19.