My 2005 Guerciotti EM2 frame may be ready to expire. I've noticed a few new suspicious paint chips under the seatstay <-> seattube junction, and I'm wondering if it's new frame time. I removed some of the extra paint with an eyeglass screwdriver, and I don't see any cracks with my eyeballs. I should add that there's not any weird chips anywhere else that would come along with rocks beating on the paint from racing. There is some under-paint corrosion near the cable stop on the seat tube as well. I was considering making some gussets and having them welded in to the frame to prevent further issues, but I don't know if I'm reaching the lifespan of the frame material already, and I would just be prolonging the inevitable damage that will happen elsewhere on the frame.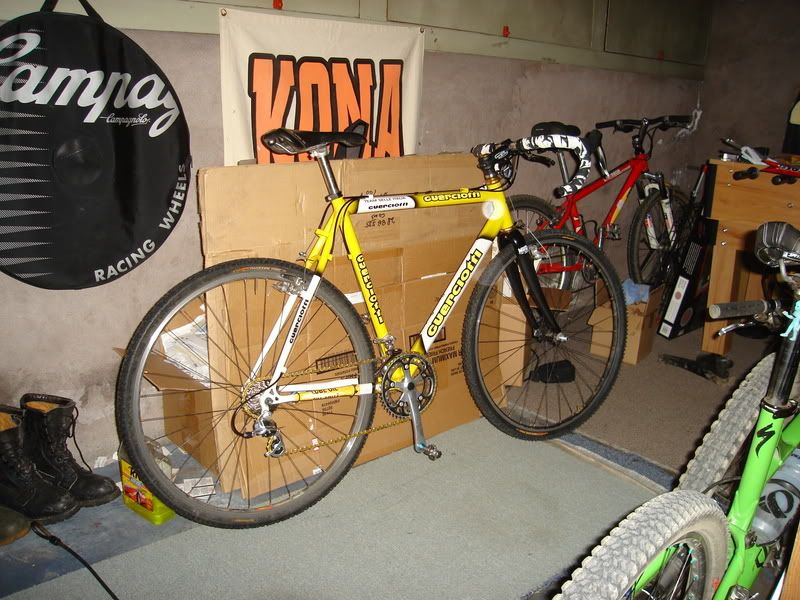 I absolutely love the handling of this bike, but can't afford a full-boat replacement. I know the x-crow frames are running about 1400 right now, and that's more than I will be able to spend. I don't think it's due to abuse, I've raced for several seasons on the same wheels that were as true as the day they were built, and I certainly ride lighter than my 205 lbs. would suggest. I was going to strip the frame down and have my friend who paints guitars take complete artistic license with the frame and respray it this winter. I may still do that, and retire this machine to a pit/single speed bike, as I have no pit bike.
Anyone with experience in Aluminum frames have any input?
I've got a list of frames I'm looking at as a replacement, and wouldn't mind some feedback.
Here's the geometry of the guerc..
52cm frame, 72.5 head tube angle, 74 seat tube angle, 53.5 top tube. I don't know how the changes in angles , etc will alter the feel of the bike.